Rosemary Rae, MA
Head of School
I tried teaching Kindergarten but it wasn't until my daughter was 3 that I realized that this was the most enjoyable and rewarding age to work with, at least for me. It is an age of innocence and wisdom, joy and delight, clarity and heart-felt honesty, and unbridled curiosity. So I started a small school in Glen Park where I stayed with my own small group of students until I was offered the opportunity to move to the commercial space on Chenery Street. The school has now been in existence for 24 years growing and improving all the way. I love the effortless way the Montessori Method allows children to teach themselves, explore their world from many points of view, and cooperatively create a peaceful and respectful environment in which to learn and teach each other.
My favorite…
Color: Sunrise peach.
Food: Curry.
For fun: I love to write and work with medicinal herbs.
Ana Padilla, MA
Director
I was born in El Salvador, Central America. I have always enjoyed working with children even at an early age. My inspiration to become a teacher was my 4th-grade teacher. Her love and kindness towards children deeply touched my heart. I especially enjoy children's curiosity, honesty, and desire to learn. I have been a teacher for 15 years–and a mother for longer! I love the amazing community and supportive environment at Glen Park Montessori Preschool. The students, my fellow teachers, and all of our families make this a very special second "home."
My favorite…
Color: All of them.
Food: El Salvadorian.
For fun: Spending time with my children and reading.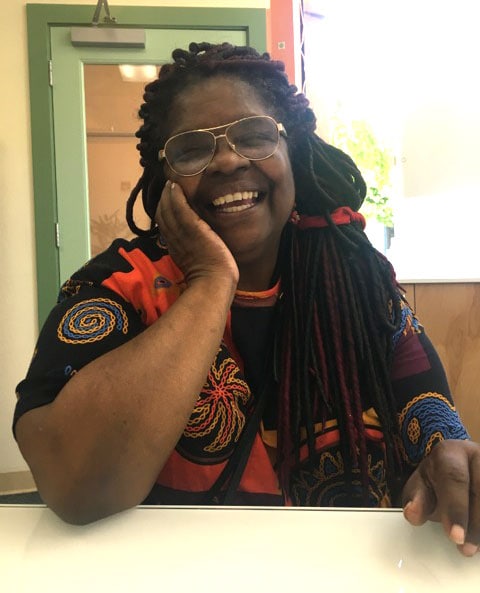 Lisa Baranco Smith, PhD candidate
Lead Teacher
I have worked in the field of education for over 20 years as a Teacher, Director, Curriculum Designer and Researcher. I currently hold a Montessori Credential as a Master Teacher for trainees of children 3 years through 6 years and 6 through 12 years of age. I have also earned my B.A in sociology with a minor in education for the University of California Berkeley, two Masters in Educational Leadership, my first Masters from Saint Mary's College in Orinda and my second Masters form Mills College in Oakland. I am currently a second-year graduate student at Mills College working toward my PHD in educational research. I have spent 15 years in the Montessori Classroom and 6 years as a public-school teacher. My love of Montessori pedagogy comes from one of Maria Montessori's quotes:
"Our care of the child should be governed, not by the desire 'to make him learn things,' but by the endeavor always to keep burning within him that light which is called the intelligence.". Maria Montessori
The education of the whole child is a gift that I have only seen within the Montessori environment. A respect of self and nature does not always come naturally unless it becomes a part of your own purpose. This is and has been my purpose for over 30 years.
Soukaina Houkal, BA
Assistant Teacher
I was born and raised in Casablanca, Morocco. I earned my BA in English Studies at the University of Ain Chock, Casablanca in 2010 Raised by both parents teachers taught me the values of this remarkable and noble job. With that in mind and a clear desire to work with children, I obtained an Associate degree in Child Development from City College of San Francisco in 2016. I was fortunate to start my professional career in a Montessori environment where children are respected and valued. I have recently become a mother to a baby girl Noor. During my maternity leave, I have always missed working at GPM where the magic experience of developing children's life is endless.Happy and excited to return and continue my joyful adventure.
My favorite…
Color: Pink and black.
Food: All flavorful food and sweets.
For fun: Traveling, family gathering, walking and enjoying nature.
Shannon Rice, BA
Communications Director
I was an assistant teacher at GPM from 2012-2014. Since moving away from San Francisco, I have held the position as Communications Director. I believe I am well suited for this position because I have classroom experience and understand how important clear, consistent communication is for a school's functioning. I am very happy to still be involved with the amazing community that surrounds GPM! I have a BA in psychology from SFSU and am currently obtaining my MA in Clinical Mental Health at Naropa University located in Boulder, CO.
My favorite…
Color: Green.
Food: New Mexican.
For fun: Hiking with my pups, traveling with my husband, and lots of yoga.